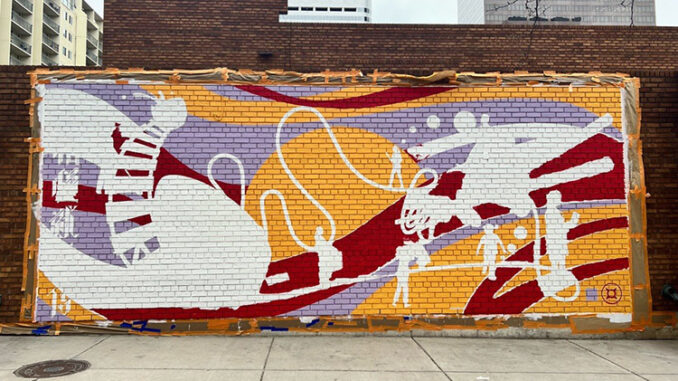 If you walk around downtown Denver, you will find something special on the wall of a firehouse on 19th Street. Look up and you will see a beautiful mural. On the left side of the mural are train tracks and a bowl. On the right side is a pair of chopsticks. In between, you can see the shapes of people. There is a long noodle that twists and turns across the mural. Chinese characters down the side of the mural say, "Be not afraid of going slowly; be afraid of standing still."
The mural tells a story that goes back 150 years. The story is from a dark chapter in Denver's history. It's a history that few people know about. The story begins with a small community of Chinese immigrants. These immigrants were the first Asian American Pacific Islander (AAPI) people in Colorado. After completing work on the transcontinental railroad, some Chinese workers moved to Denver, which was still a frontier town. There were few women to do the cooking and cleaning, so Chinese entrepreneurs opened restaurants and laundries. They had to live in a small, crowded part of town that came to be called Chinatown. Eventually, about 1,000 people lived there. It was one of the largest Chinese communities in the West. There were only 29 women. Most of the men had left their families behind in China.
The Chinese community experienced discrimination. On October 31st, 1880, there was an anti-Chinese riot, or violent disturbance, in Chinatown. A fight broke out between White men and Chinese men. Within hours, hundreds of White men came to join the riot. They set fire to Chinese businesses. They attacked every Chinese person they could find. After the riot, the Rocky Mountain News reported that "Chinatown is now a mass of ruins. Every Chinese abode in town may be said to have been destroyed." Denver's Chinatown was gone and mostly forgotten—until today.
Today, Denver is a diverse city with people from many different backgrounds. Denver's AAPI community decided it was important to remember the city's Chinese heritage. One of the first steps was to create a mural where Chinatown used to be. Nalye Lor, a Hmong American woman, was chosen to create the mural. She says she wanted to tell a visual story, to show a timeline that connects the past, present, and the future. The train tracks represent the transcontinental railroad. The noodle is called a "long-life noodle." Lor says it symbolizes unity and the hope of a long life for Denver's AAPI community. The people represent the railroad workers and the laundry workers, and modern-day people, too.
While Denver's old Chinatown may be gone forever, we can honor the Chinese immigrants who once lived there. We can visit the beautiful mural and remember how much this community contributed to the history of Colorado, and to the history of our country.
What Can You Do? Are there murals in your community? Do some research to discover who they honor.
Photo Credit: McGraw Hill