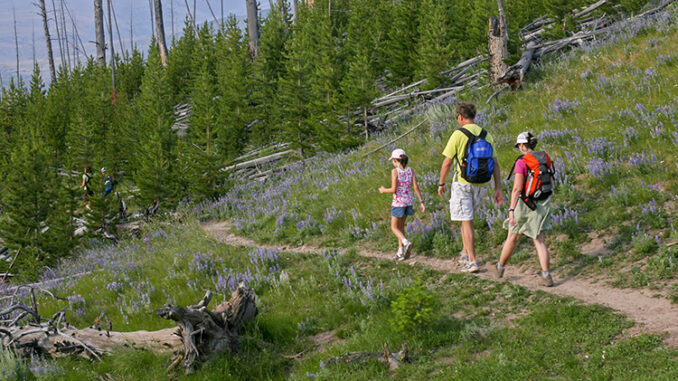 Summer goes quickly—don't spend it sitting around. Now is the time to plan an overland adventure. In other words, take a hike! Hiking has many benefits. It's good for your physical and mental health. Like sports, it offers the perfect balance of challenge and fun. Plus, the views are bigger and more breathtaking than anything on a video screen.
So where can you hike? According to Every Kid Outdoors, an official website of the United States government, the choices are numerous. Wherever you live in the United States, there's a hiking trail within two hours of your home. There are also 424 national parks. They cover more than 85 million acres in all fifty states, the District of Columbia, and United States territories.
Hiking expands your view of the world. Consider two of the most popular national parks. Denali National Park in Alaska shows off snow-covered peaks, including North America's tallest mountains. Winters are extremely cold, so many hikers visit in summer.
By contrast, the natural wonders of Yellowstone National Park start underground, and they are hot, hot, hot! These features are hydrothermal. This means they are formed by the eruption of hot water and lava. There are thousands of hot springs and mud spots. Yellowstone's most famous hot springs are geysers that gush water straight up into the sky. Eruptions at Old Faithful soar up to 180 feet.
Both parks support many kinds of wildlife, including bears and wolves. Denali is also home to small mammals like arctic ground squirrels. They can survive extremely cold temperatures without freezing. Yellowstone has even tinier critters, micro-organisms that thrive in the extreme heat produced by lava.
Wherever you hike, it's important to plan ahead:
Hike with an adult family member or park ranger.
Cell phones don't always work in the wild. Carry a map. Let someone home know where you will be.
Wear sturdy, comfortable shoes. Prepare for changes in weather. Your backpack should hold necessary items like rain gear, sunscreen, and a first aid kit.
Bring plenty of drinking water.
Choose the trail that's right for you. National parks have trails for every level of ability and range of mobility. Stay on the trail to avoid getting lost or injured.
Don't feed or touch wildlife.
Leave no trace. Don't litter. Take only pictures.
What Do You Think? What is your idea of a great hike? What kind of place would you like to explore on foot?
Photo Credit: Jim Peaco/NPS