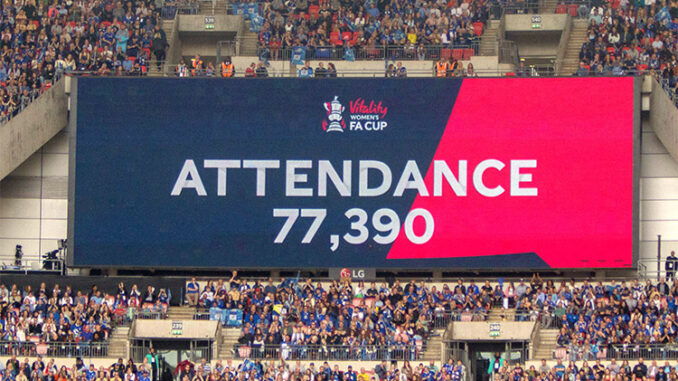 Over the winter, men's soccer teams from around the world played in the Men's World Cup. This summer, it will be the women's turn. The 2023 Women's World Cup will be played in New Zealand and Australia. It is expected to be the most watched Women's World Cup of all time.
Organizers had to change stadiums for the opening match in Sydney, Australia, because so many tickets were sold. Originally, the match was scheduled to take place in the Allianz Stadium. Now, the match will take place in the enormous Stadium Australia, which can hold 82,500 people.
Ticket sales are not the only sign that women's soccer is becoming more popular around the world. The FIFA Women's World Cup in 2019 had over a billion viewers on television, breaking previous records. Since then, large crowds have continued to watch women's soccer games.
Why is women's soccer becoming popular now? Much of the credit goes to the women that play the sport. Many national soccer teams, led by the United States Women's National Team, have advocated (supported or recommended) for themselves. They have demanded to be paid as much money as the men. They have also demanded that their games are promoted as well as men's games.
Women's soccer is still not treated equally with men's soccer. For example, the prize money for the FIFA Men's World Cup is much higher than the FIFA Women's World Cup. However, as women's soccer teams have spoken up about equality, it has brought more attention to women's soccer. Now audiences have discovered how exciting their games can be.
What Do You Think? Why do you think women's soccer is becoming more popular?
Photo Credit: Tom Phillips/SPP Sport Press Photo./Alamy Stock Photo