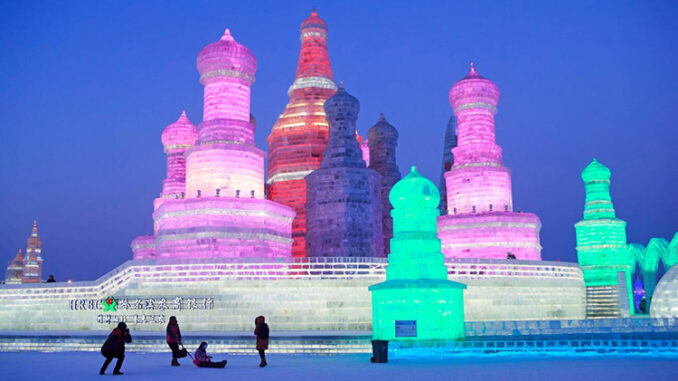 People think of summertime as a great time to celebrate outdoors with parades, fireworks, and parties. However, many different places in the world also hold outdoor festivals to celebrate the beauty and wonder of winter.
The largest winter festival is the Harbin International Ice and Snow Festival in Harbin, China. When the Songhua River freezes solid, thousands of workers carve out ice blocks from the river. Then artists and builders make various sculptures and buildings with the ice. The result is a gigantic amusement park built out of ice. Attractions of the festival also include art exhibits and a beautiful ice lantern show. The festival begins with an opening ceremony on January 5. The festival lasts until the ice melts in March.
The Québec Winter Carnival is the largest winter festival in the Western Hemisphere. Québec is a French-speaking province in the country of Canada. People from all over the world come to the carnival. The fairgrounds have a Ferris Wheel and a large ice castle with an ice slide. The carnival holds parades, as well as events such as dog sled races and canoe races.
Many cold cities in the United States also celebrate winter with outdoor festivals. These include the Saint Paul Winter Carnival in Saint Paul, Minnesota, and the Saranak Lake Winter Carnival in Saranak Lake, New York. Some cities build large ice castles with light shows. Some cities have ice sculpture competitions. There are also many other people that celebrate winter in smaller ways, such as sledding, snowball fights, and building snow forts.
What Do You Think? Does your community celebrate winter? How?
Photo Credit: CORDIER Sylvain/Hemis.fr/Alamy Stock Photo