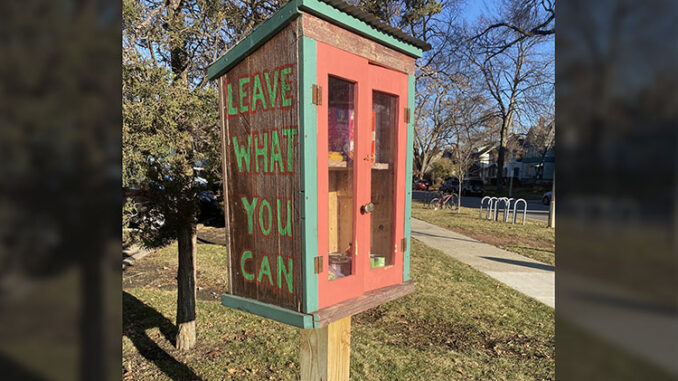 Did you know that food insecurity is a problem that over 40 million people face and that at least nine million of those people are children? Food insecurity means people do not consistently have enough food for everyone in their home. Sometimes food insecurity is temporary, sometimes it can last a very long time. Food insecurity is a big problem, and recently people have come up with a new way to help.
Little Free Food Pantries are wooden boxes where people can take or leave food. The food pantries are filled with non-perishable items, or items that do not go bad, such as canned foods, nuts, or dried fruits. Some pantries have refrigerators for items like milk and eggs. Sometimes people leave non-food items in pantries as well, such as school supplies or even birthday party supplies.
Little Free Food Pantries began in 2016 and have spread across the country. Organizations such as churches, libraries, scouts, and others have built Little Free Food Pantries. Some grocery stores have pantries set up outside their stores for people to donate or add a little extra food their shopping. Many have the slogan "Take what you need, give what you can," written on them.
Little Free Food Pantries are not meant to replace other charity organizations such as food banks or soup kitchens. They are meant just to give people a place for people to help other people as equals and make sure people in a community have a way to get things they need.
What Can You Do Get together with a group or organization. Plan a Little Free Food Pantry, or collect canned items to donate to a food bank.
Photo Credit: McGraw Hill