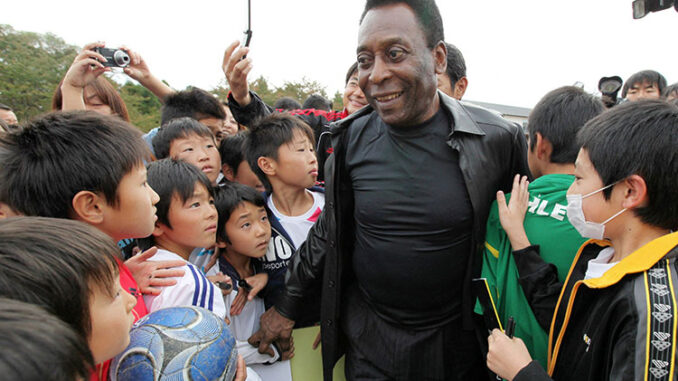 Pelé was a famous soccer player and humanitarian. He died on December 29, 2022, at the age of 82. From his early days as a sports superstar to the final years of his life, he was a living legend. He was not just famous for being a sports hero. He was also well known for working to end poverty and improving education around the world.
Pelé was born Edson Arantes do Nascimento in 1940 in Três Corações, Brazil. His parents named him after Thomas Edison. His friends later gave him the nickname of "Pelé." When Pelé was a young boy, his family moved to Bauru, Brazil. Pelé grew up in poverty for much of his early life. Still, his family made the best of what they had. His father tried to make a living as a professional soccer player. Pelé learned about soccer from his father and developed skills at an early age.
Pelé joined the Santos Football Club, a professional soccer team, when he was only 15 years old. At the age of 17, Pelé became the star of the 1958 World Cup in Sweden. He demonstrated amazing speed and skill on the field. Pelé helped Brazil's national team win the World Cup in 1958, 1962, and 1970. In 1974, he retired from soccer, but an American team convinced him to play for them the following year. After he joined the New York Cosmos, the North American Soccer League grew in popularity. Pelé played his final game in October 1977. He played a total of 1,363 games and scored 1,281 goals during his career.
After his retirement from soccer, Pelé became more active in other areas. In 1978, he won the International Peace Award for his work with United Nations International Children's Emergency Fund (UNICEF). UNICEF helps children in need around the world. Pelé also served as the Extraordinary Minister for Sport for the Brazilian government. In addition, he became a United Nations (UN) Goodwill Ambassador for matters related to protecting the environment. In 2018, he started the Pelé Foundation, which works to end poverty for children around the globe.
Many people believe that Pelé's achievements in soccer will never be equaled. All great athletes in the sport still measure their skills against his. Pelé's lifetime of achievements and his work to better the lives of others make him one of the world's greatest and most unforgettable sports heroes.
What Do You Think? If you were a famous sports hero, how would you use your fame to help others?
Photo Credit: JIJI PRESS/AFP/Getty Images