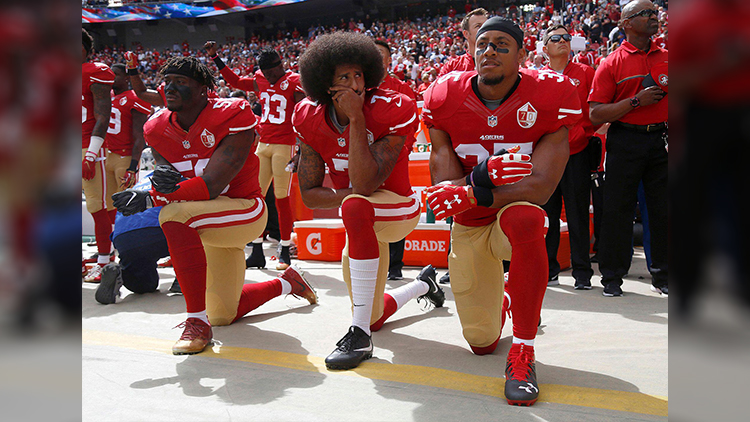 In the United States and many countries around the world, people are protesting against the mistreatment of Black people, especially by police officers. On May 25, when a Black man named George Floyd was killed by police officers in Minnesota, those protests became more urgent and widespread.
Four years ago, Colin Kaepernick was protesting quietly on the sidelines of the NFL. A quarterback for the San Francisco 49ers, Kaepernick began to take a knee during the national anthem in peaceful protest. That means that, during the anthem, he knelt. The purpose of this protest was to call attention to racism and police brutality. Other players from many teams joined him in the protest.
But there was a huge backlash to his actions. Some believed that he was disrespecting the American flag by kneeling during the anthem. Even the President of the United States joined some football team owners in saying that Kaepernick's actions were wrong. Kaepernick lost his job in the NFL, and no other team signed him to play. Some teams believed that having that controversy was bad for business. Many team owners told their players that kneeling during the national anthem was no longer allowed.
After the unrest and protests following George Floyd's death, the Commissioner of the National Football League admitted he was wrong for not listening to NFL players. He encouraged the players to protest peacefully and to speak out about injustice. But Kaepernick still has not been signed by any NFL team.
Today, players in other sports have taken a knee in support of the Black Lives Matter movement. On opening day of baseball, for example, many teams took a knee and wore Black Lives Matter shirts during warm-ups. Many believe that apologies to Kaepernick aren't enough and that he should be employed again in the NFL. His protests were the start of a larger movement to demand justice.
What Do You Think? Some people in the NFL apologized to Colin Kaepernick. Do you think an apology is enough? What else do you think should happen?
Photo Credit: Nhat V. Meyer/Bay Area News Group/TNS/McClatchy-Tribune/Tribune Content Agency LLC/Alamy Stock Photo