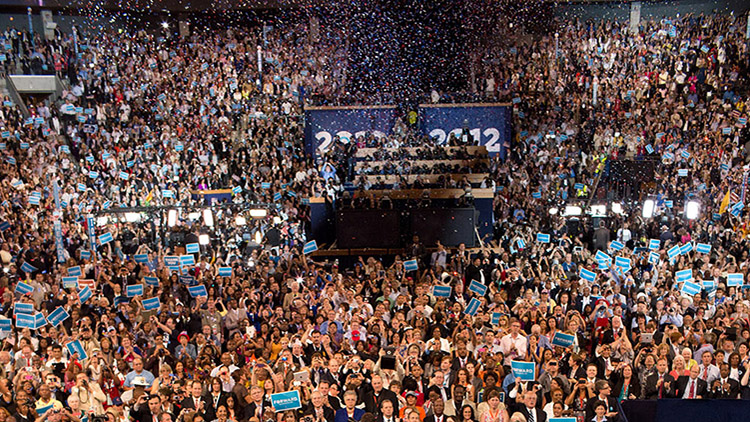 In the United States, candidates follow a process to become President. A presidential candidate must be a natural-born citizen, a resident of the United States for at least 14 years, and at least 35 years old. Candidates run in state-wide primary elections to win delegates, or people who will vote for them to become the presidential candidate for a political party. Each presidential election year, the Democratic and Republican parties hold national conventions. Each party selects its final Presidential candidate. Then the candidate choose a running mate (Vice Presidential candidate).
Conventions are usually held in packed convention halls, with delegates from all the states as well as news crews. With COVID-19, a disease that spreads easily in crowded places, the conventions are not as safe. People in a convention would have a difficult time keeping at least 6 feet away from each other. They would be travelling there from all over the country, coming into contact with people at airports and other transportation hubs. This could make a convention dangerous.
The Democratic Party had planned to have its convention in Milwaukee, Wisconsin. The selected candidate, most likely Joe Biden, will accept the nomination in the city. But the convention is changing. Called "A Convention Across America," events will be held at many places across the country. Much of the activity in the convention will take place remotely. The Convention will stream live on YouTube.
The Republican Party had planned to hold its convention in Charlotte, North Carolina. It was moved to Jacksonville, Florida, when the government of North Carolina disagreed with the Republican National Committee about social distancing. On July 23, the convention in Jacksonville was cancelled because of COVID-19, which has recently surged in Florida. Delegates will meet in small groups in Charlotte. The Republican party is still deciding how to hold the convention virtually and will announce where Donald Trump will accept the nomination.
What Do You Think? How has COVID-19 changed the national conventions to nominate Presidential candidates?
Photo Credit: Official White House Photo by Chuck Kennedy