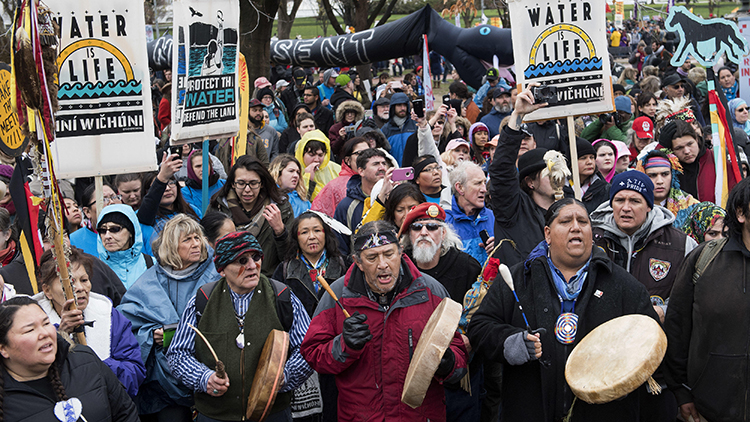 August 9th is Indigenous Peoples' Day. The United Nations created the holiday in 1994 to honor indigenous people and cultures around the world. Indigenous people are the first people to live in an area. The Standing Rock Sioux live on a reservation that spans North and South Dakota.
In 2014, the Dako Energy Transfer Partners, an oil company, announced the construction of an underground pipeline over 1000 miles long to bring oil from North Dakota to Texas. There were concerns that the pipeline could hurt the water supply in the North Dakota capital of Bismarck. The company decided to reroute the pipeline near the Standing Rock Sioux Reservation.
On April 1, 2016, LaDonna Brave Bull Allard, an elder member of the tribe, started the Sacred Stone Camp to protest the Dakota Access Pipeline (DAPL). Her grandchildren joined her. They believed that the DAPL would threaten the reservation's only water supply, the upper Missouri River. Soon, her small protest grew. That spring, indigenous peoples from all over North America came to support the Native Americans on the Reservation. Other supporters joined them as well.
In the summer of 2016, young activists from Standing Rock ran from North Dakota to Washington, D.C. They presented a petition to protest the construction of the DAPL. The Tribe also requested that the government study the impact of the pipeline. That fall, the protests grew larger. Protestors were met with pepper spray and dogs. Later that fall, veterans arrived in North Dakota to support the protestors.
In early 2017, President Trump issued an executive order to move the pipeline forward to create more jobs. This order brought more protests. Yet the President authorized the Army Corps of Engineers to move forward with construction. The pipeline was completed that April. It began to deliver oil on May 14, 2017.
The tribe sued. In March, 2020, a federal judge sided with the tribe. The Judge stated that the oil companies did not do a complete study of all of the effects of the pipeline on the environment. The pipeline was not designed to catch slow oil spills. The pipeline was shut down four years after the first protests. The study is going on today.
What Do You Think? How do you think the protests affected what happened with the DAPL?
Photo Credit: Kevin Dietsch/UPI/Alamy Stock Photo