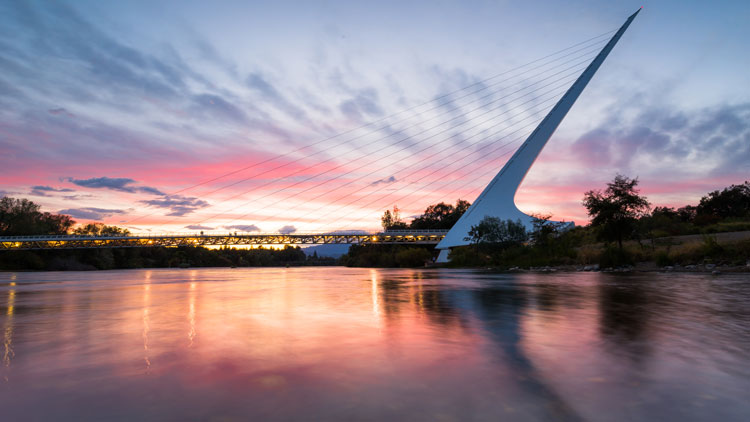 When they see the Sundial Bridge, visitors of Turtle Bay Exploration Park in Redding, California might find themselves wondering, "Is it a bird? Is it a plane?" No, but it is certainly a real eye catcher! It is also one of the world's largest working sundials, which is also pretty cool.

The Sundial Bridge was designed by the Spanish architect Santiago Calatrava. He is famous for representing movement in his designs. The Sundial Bridge was meant to resemble a bird in flight. The bridge was constructed of glass, steel, and granite. The translucent deck allows for viewing of the Sacramento River below.

Light hits the Sundial Bridge and casts a shadow. As the Sun moves, the shadow moves as well. In fact, the shadow made by the Sundial Bridge moves one foot per minute! The movement of the shadow forms an arc. This arc can be used to tell time and works best between 11:00 a.m. and 3:00 p.m. when the view is not blocked by trees.

The Sundial Bridge is a type of suspension bridge. Suspension bridges are made using cables. These types of bridges hold the walkway, or deck, from above rather than from below. The choice to make the Sundial Bridge a suspension bridge was an environmental one. The bridge spans the Sacramento River, which is a habitat for salmon. It is an important place for them to spawn, or lay eggs. Architect Santiago Calatrava's bridge may look like a bird, but he designed it so that no part of the bridge would be in the river. This design keeps the salmon habitat safe and free from human contamination.

When Santiago Calatrava designed the Sundial Bridge, he considered how it would look, how it would function, and how it would affect the environment. Imagine what would happen if all architects did the same!

What Do You Think? What other structures do you know that have both a beautiful design and an important function? How do these structures impact the environment?
Photo Credit: A K Potts Photography/Moment/Getty Images