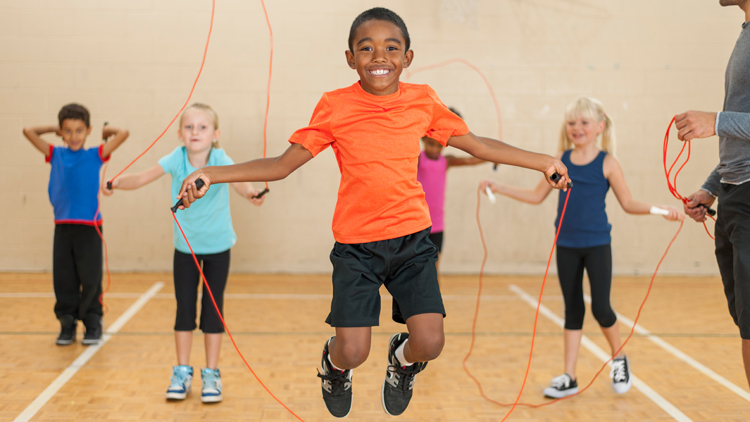 In February, we celebrate American Heart Month. It's a special time to learn about your heart and how to keep it healthy. Heart disease is the leading cause of death in the United States. There are many ways to help prevent heart disease. Eating healthy foods like fruits and vegetables, not smoking, and being physically active are ways to reduce your risk of heart disease.
Over forty years ago The American Heart Association created a program called Jump Rope for Heart. This program is a fundraising event that is held annually in elementary and middle schools across the USA. Millions of kids participate every year. In 1978 a P.E. teacher named Jean Barkow started the first jump rope fundraiser. She was looking for a way to encourage physical activity while creating a sense of community. Her first Jump-A-Thon raised more than $2,000 and included over 200 kids. The following year, The American Heart Association introduced Jump Rope for Heart. Since then, the event has raised over $1.2 billion for research and education through the American Heart Association. The money is used for research and education that will help reduce the risk of heart disease.
The primary goal of the event is to teach kids the importance of having a healthy lifestyle. Jump Rope for Heart also has a daily challenge. This challenge is called EASY habits.
E= eat fresh fruits and vegetables
A = active for 1 hour or more
S= screen time less than 2 hours
Y= saying 'yes' to water, 'no' to sugar.
The EASY challenge is a fun way to track how many days in a row you can practice these healthy habits.
What Can You Do? Does your school participate in Jump Rope for Heart? If so, set a fundraising goal with your friends! If not, try to organize one with the help of your teacher.
Reading Response Click on this link to respond to your reading. Print out the response page or upload it to your classroom site.
Photo Credit: FatCamera/iStock/Getty Images