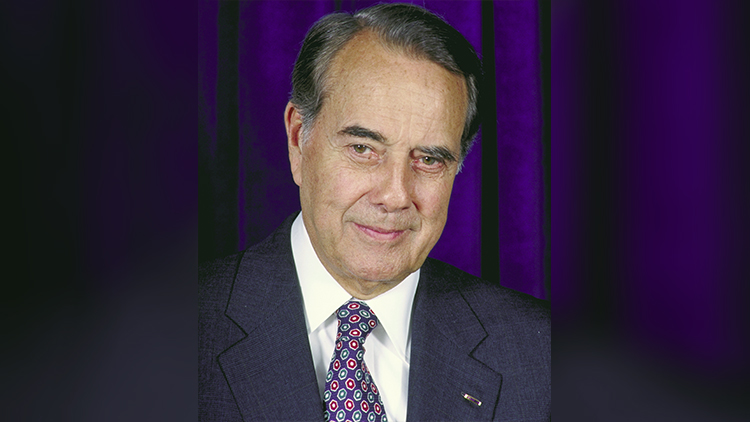 Bob Dole was born in rural Kansas. Growing up, his family lived in the basement of their house, renting out the rest of the house to make money. As a child, he worked hard and saved money to buy a bicycle so that he and his siblings could have paper routes.
In 1942, Dole left Kansas University to enlist in the Army, where he rose to the rank of second lieutenant and served in World War II. In 1945, Dole's division was in a battle in Italy. He saw an injured radio operator and walked toward him to assist him. He was struck by German gunfire and was paralyzed for hours. After his rescue, it was three years before he could be released from the hospital. During that time, he completed law school by memorizing facts from tape recordings.
In 1950, he was elected to the Kansas House of Representatives. Two years later, he became the county attorney. He moved his career to Washington, D.C, in 1960, serving first in the House of Representatives and then becoming a Senator.
Bob Dole was known for voting on programs he believed in rather than always sticking with his political party. He helped to write legislation for programs to supply poor Americans with food. He believed that budget cuts shouldn't target people with low incomes. Dole also helped to extend the Voting Rights Act.
Dole resigned his Senate seat in June 1996, before the presidential election. He had served the United States government for more than 35 years, including 11 years as the Republican leader in the Senate. He said at the time that he had "nowhere to go but the White House or home." Dole is the only American to lose elections as both the Vice President (in 1976) and the President (in 1996).
President Joe Biden called Bob Dole "an American statesman like few in our history." Biden continued, "Bob was a man to be admired by Americans. He had an unerring sense of integrity and honor."
What Do You Think? President Biden said that Bob Dole was a man to be admired by Americans. What do you think is admirable about Dole and his career?
Photo Credit: SCPhotos/Alamy Stock Photo