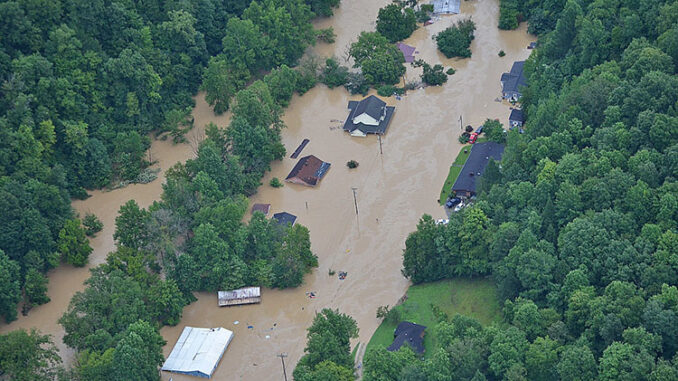 On Wednesday night, July 27th, it began to rain in eastern Kentucky. The rain didn't stop. Throughout the next day, the region experienced more than a foot of rain. The rain caused the Kentucky River and other waterways to rise. The area was soon flooded with water. Throughout the week, more rain made the flooding much worse.
The flooding put many people in danger. It damaged roads and bridges, making it difficult for rescuers to help people. At least 39 people were killed by the flooding. Hundreds of homes were destroyed and more than 25,000 people lost electric power in their homes. After the rain, temperatures rose into the high 90s. Without shelter or air conditioning, more people were in danger.
Kentucky governor Andy Beshear declared an emergency. He activated the National Guard to help search for missing people. They used boats and helicopters to rescue many people. President Joe Biden and Kentucky senators Mitch McConnell and Rand Paul visited the area to inspect the damage and comfort people. The Federal Emergency Management Agency (FEMA) arrived to help people start rebuilding their lives. Other groups such as the Red Cross are also helping.
Scienctists have shown that extreme weather events such as the flooding in Kentucky are happening more frequently because of climate change. Congress recently passed a bill that will give more funds to renewable energy sources such as solar and wind. This will limit the use of fossil fuels, such as oil, that contribute to global warming. This is one part of a long-term effort to reduce the effects of climate change. However, in the short term, people are continuing to help the victims of the floods in Kentucky.
What Can You Do Check with local organizations that help people in need. See if you can volunteer or donate to help people affected by the floods in Kentucky.
Photo Credit: Photo by Sgt. Jessica Elbouab/DVIDS