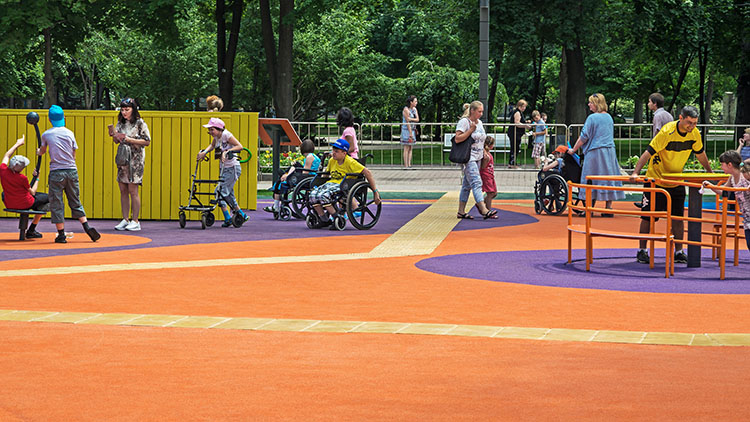 Some people celebrate International Day of Persons with Disabilities in December. This day focuses on the rights and well-being of people with disabilities.
Many communities are making spaces where all children can play together. These playgrounds are called accessible because they give people access. Accessible playgrounds allow people with disabilities to use the playground equipment. Parent, teachers, caregivers, and siblings can be part of the fun, too!
The Americans with Disabilities Act is a law that says new playgrounds should be accessible. People of all different abilities must be able to get to the playground. Playgrounds must have ramps, and the ramps need railings for people to hold.
Playgrounds should be inclusive, too. An inclusive playground allows children of all abilities to play in the same space. Some children, for example, may need to regroup in a quiet and cozy place away from noise and activity. An inclusive playground includes spaces like this.
Inclusive and accessible playgrounds allow all kids to have fun and to play together. They also help kids learn how to better understand each other. They provide ways for people to spend time with classmates and their families.
Playgrounds aren't the only places that need to be accessible and inclusive. Some communities have features such as ramps and cuts on curbs, safe street crossings, wider doors to buildings, accessible paths to all spaces, and better access to public places such as restrooms. Countries all over the world are passing laws to make sure that people with disabilities have the same rights and opportunities as others.
What Do You Think? What do you think your community could do to build spaces that are more inclusive and accessible for people with disabilities?
Photo Credit: Alla Bama/Alamy Stock Photo