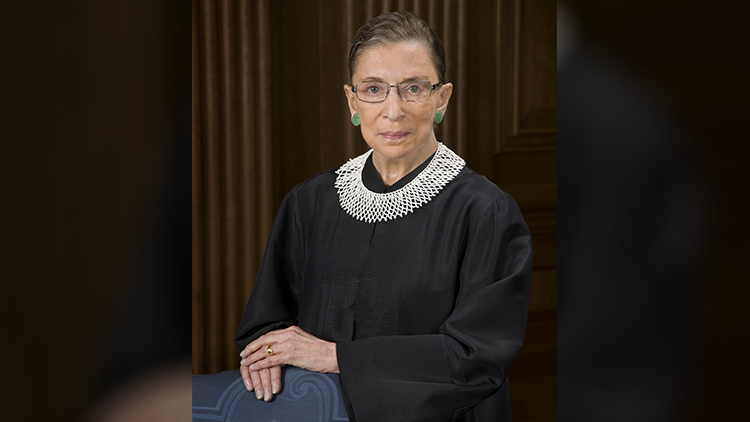 On Friday, September 18, 2020, Supreme Court Justice Ruth Bader Ginsburg died at the age of 87. She spent her remarkable life working tirelessly for all people to be treated equally under the law.  
When Ruth Bader Ginsburg was young, she wanted to become a lawyer. When she went to law school, she faced gender discrimination—unequal treatment based on a person's sex. Some people thought only men should be lawyers, and that she was "taking a man's spot." But Ruth Bader Ginsburg disagreed. She graduated first in her law school class!
After graduating from law school, Ruth Bader Ginsburg became a law professor. She also worked for the Women's Rights Project. This project tried to change unfair laws that did not treat all people equally. Many states had laws that restricted what women could do, even keeping them out of certain jobs. Ginsburg argued cases before the Supreme Court — and some laws were changed. Women gained more and more equality under the law. Ginsburg explained this progress when she said, "The words of the 14th Amendment's equal protection clause — 'nor shall any state deny to any person the equal protection of the laws.' Well . . . 'any person,' covers women as well as men. And the Supreme Court woke up to that reality. . ."
After the success of the Women's Rights Project, Ginsburg was selected to work as a judge. She served on the United States. Court of Appeals for the District of Columbia for thirteen years, until 1993. Then the president appointed Ginsburg to the Supreme Court of the United States. She was the second woman to serve on the Supreme Court. Ginsburg was a thoughtful justice, believing that major social changes should come from the Congress and legislatures, not from the courts.
Ginsburg continued to support women's rights and equality as a Supreme Court justice. She was not always successful. Sometimes the other Supreme Court justices would make a ruling, and Ginsburg would object, or dissent. She felt that her dissents might be useful in the future if similar issues need to be decided by the Supreme Court. " Some of my favorite opinions are dissenting opinions," Ginsburg said. "I will not live to see what becomes of them, but I remain hopeful."
Justice Ginsburg provided this summary of her lifelong interest in equality: "I do think that I was born under a very bright star, because if you think about my life, I get out of law school. I have top grades. No law firm in the city of New York will hire me. I end up teaching; it gave me time to devote to the movement for evening out the rights of women and men."
What Do You Think? Ruth Bader Ginsburg helped to make changes in the law that will last long beyond her lifetime. What causes do you want to work for in your lifetime?
Photo Credit: Source: Steven Petteway, Collection of the Supreme Court of the United States