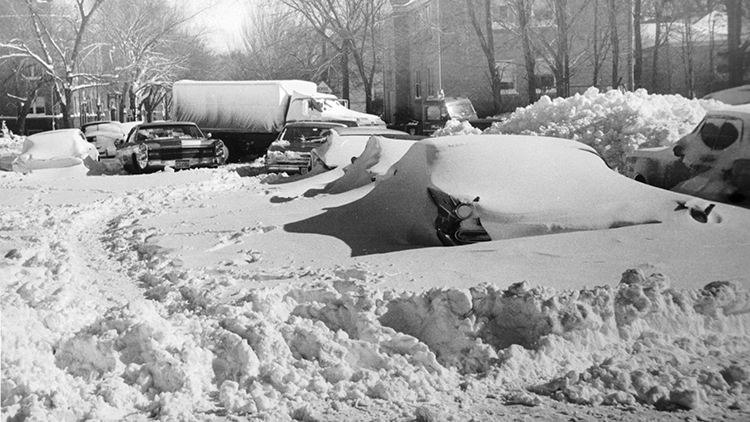 January 24, 1967 was a warm day in Chicago. Weather forecasters predicted that temperatures would fall and that the city might get 4 inches of snow the next morning. But the snow that started a few days later actually turned into a deadly storm. No one was ready.
Snow started falling on Thursday, January 26. About 24 hours later, there were 23 inches of snow on the ground. Gusts of wind about 50 miles per hour created huge drifts. Thousands of people were stranded in their offices and schools. Driving was difficult, and many people gave up and walked where they needed to go. About 50,000 abandoned cars and 800 abandoned buses sat on the streets and expressways. Both Midway and O'Hare Airports were closed, as ten-foot snow drifts covered Midway's runways!
That Friday, schools and businesses were shut down. The mayor, Richard J. Daley, asked the citizens of Chicago to help. Citizens came out to help city workers clear the streets. In addition to Chicago's 500 snow plows, plows from Iowa, Wisconsin, and Michigan arrived. It took the city three weeks to clear the streets of all the snow.
During the blizzard, helicopters delivered medicine and took food to people stranded in their cars. Some people went to the hospital by sled! Sadly, 26 people died in the blizzard. Some died from cold, and others had heart attacks when they shoveled snow.
Although the blizzard created a lot of trouble in Chicago, some people today still remember the beauty of the city and how much fun they had playing in all that snow.
What Do You Think? How do you think Chicago could have better prepared for the blizzard? What lessons do you think the city learned from the Blizzard of 1967?
Photo Credit: Howard B Anderson/Chicago History Museum/Archive Photos/Getty Images