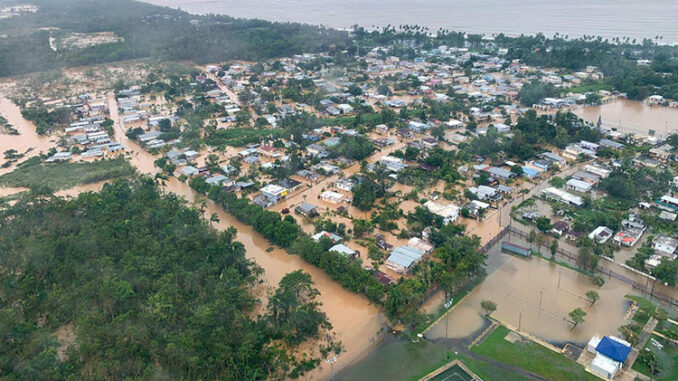 On September 28, Hurricane Ian struck Florida, causing catastrophic damage [massive physical damage] to many Florida communities. The storm had already passed through Cuba, leaving a path of destruction there. It gained strength as it crossed the warm waters of the Gulf of Mexico near the west coast of Florida. With winds of 150 miles per hour, Ian was rated a Category 4 hurricane. This makes it one of the strongest hurricanes to ever hit Florida.
Hurricanes are large, tropical storms that form in the Atlantic Ocean with winds of at least 74 miles per hour. The high winds, heavy rains, and large waves they produce cause massive destruction when they make landfall. This September not just one but two hurricanes endangered lives from Puerto Rico, to Cuba, to Florida, all the way to Canada.
Before Hurricane Ian, people were still reeling from an earlier hurricane. On Sunday, September 18, Hurricane Fiona had ripped through the United States territory of Puerto Rico, an island in the Caribbean Sea. Fiona's heavy rains caused extensive damage. They flooded roads, washed out bridges, and caused landslides. Puerto Rico was still recovering from the devastation of Hurricane Maria five years ago.
After Fiona passed through Puerto Rico, it turned north and hit the Turks and Caicos Islands and then Bermuda in the Atlantic Ocean. From there, it continued north to Canada. Its heavy winds and rains caused damage across three provinces in eastern Canada: Nova Scotia, Prince Edward Island, and Newfoundland. Many believe it is the worst storm to ever hit Canada.
These hurricanes are the latest in a series of extreme weather events. Scientists have shown that these events are happening more frequently because of climate change. There are many efforts to reduce the effects of climate change. However, in the short term, people are continuing to help the victims of hurricanes. The United States government is working with Florida and Puerto Rico to make sure they have all the emergency supplies, equipment, and help they need. The American Red Cross and other disaster relief organizations are also working to help people in other affected areas.
What Can You Do? You can help, too. You can support one of the many organizations that helps people during disasters. You may also investigate steps you can take to fight climate change.
Photo Credit: © CBP AMO Southeast Region/ZUMA Press, Inc./Alamy Stock Photo