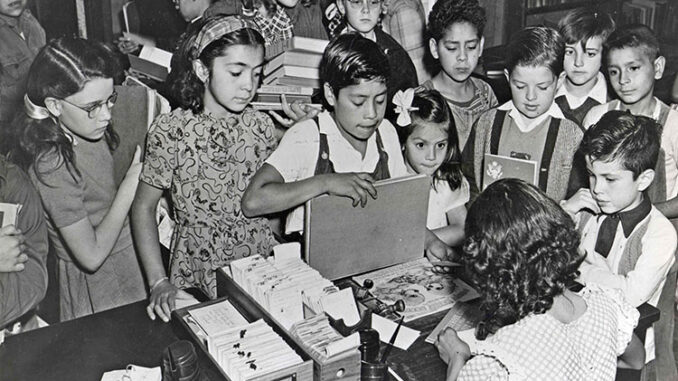 This summer, when you visit a library, chances are you will see signs for their summer reading programs. You can sign up to keep track of your reading and earn rewards depending on how much you read. Almost every library in the country has a summer reading program. How did they get started?
In the 1896 in Cleveland, Ohio, the head librarian at the Cleveland Public Library, Linda Eastman, worried students did not have access to good books during the summer months. She visited local schools and gave out lists of recommended books. She challenged students, aged 10-18, to read as many of these books as they could during the summer months. She reported more students visiting libraries than ever before. So, she convinced Cleveland libraries to start book clubs where students could make reading logs and sharing recommendations with each other.
The idea of summer reading programs began to catch on in other areas. In Pittsburgh, Pennsylvania, librarians began visiting local parks and holding read-alouds. Children began to sign up for library cards and visit local libraries. In Hartford, Connecticut, a librarian named Caroline Hewins realized students needed to interact with books. She developed a program with weekly discussion clubs, and gave students rewards for reaching certain levels as they logged their reading. Many libraries across the country began to follow this model.
Today, libraries have expanded the ages of people involved in summer reading programs and embraced technology. Many libraries allow students to read digital books, listen to audiobooks, and track their progress online. Some have book related games and websites to encourage participation in reading programs.
What Do You Think? Are you part of a summer reading program? Why or why not?
Photo Credit: National Archives and Records Administration [23932426]