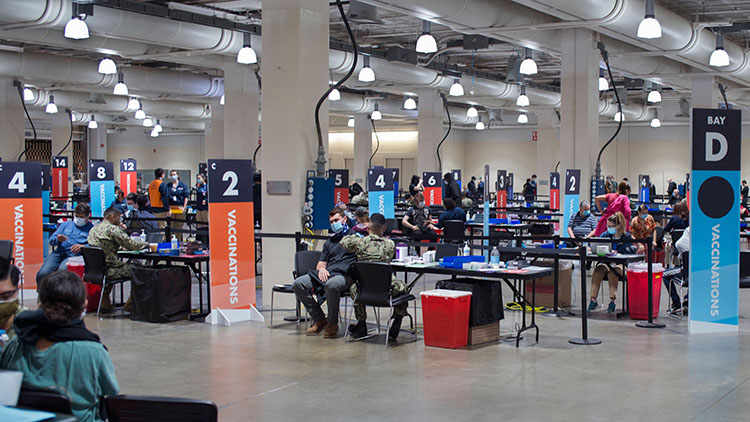 In September, U.S. President Joe Biden announced new rules that required nearly 100 million adults in the United States to get vaccinated against COVID-19. Why did he decide to enforce this mandate (an official order to do something)? At the time of his announcement of the new rules, just 54% of all adults in the United States had been fully vaccinated. Around 63% had received one dose. Many countries in other parts of the world, however, have vaccinated 70% of more of their adults.
Research shows that people who aren't vaccinated are more likely to catch new variants of COVID-19. They are also more likely to be hospitalized or die from the disease. Many states have hospitals overcrowded with COVID patients.
The new rules require vaccinations for people who work for the U.S. government and for health care workers. Companies with more than 100 workers must also require their workers to get vaccinated or to be tested weekly. About 100 million people will need to be vaccinated or tested.
How have people reacted to this news? Large businesses were generally supportive of it. Many businesses had already required their workers to get vaccinated. Other businesses are relieved, because they can say that the government has required them to follow these rules. They don't have to enforce the rules themselves.
Some people, including many government leaders, are opposing this mandate, however. They leaders see vaccination as a personal choice. Some choose not to get vaccinated because they do not trust the vaccine or worry about its long-term effects. They argue that President Biden is limiting people's rights to make their own decision. Some leaders have even said these mandates are unconstitutional.
The federal government does have the power to enact laws to protect people and workplaces from grave danger. Many hospitals are being pushed to their limits and rates of COVID-19 are continuing to rise. Health experts believe that the new rules will slow the spread of COVID-19 across the country. In several rulings in the past, courts have allowed vaccine requirements. If these new vaccine rules are challenged, courts will again decide if the government's rules to protect public health go against individual's rights.
What Do You Think? Do you think the vaccine mandates will help people in the United States? Tell why or why not.
Photo Credit: Chuck Nacke/Alamy Stock Photo