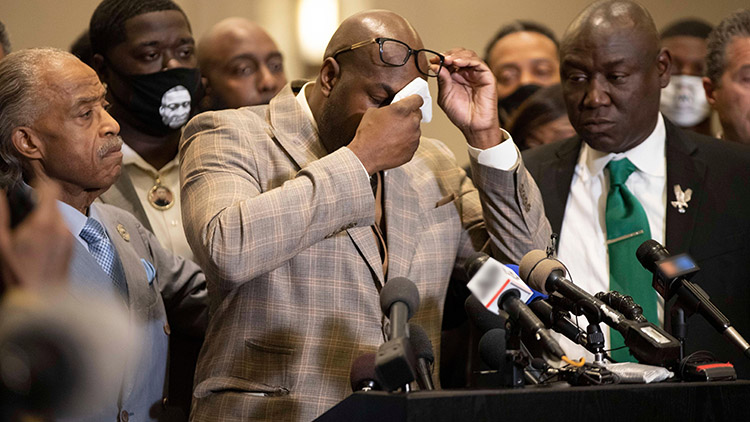 After ten hours, the jury announced they had reached a decision. Minneapolis police officer Derek Chauvin had been accused of the murder of George Floyd, an African American man. On April 20, 2021, the jury found Derek Chauvin guilty.
On May 25, 2020, while arresting Floyd, Chauvin pressed his knee against Floyd's neck. Floyd said he couldn't breathe but Chauvin did not listen. He died after almost 10 minutes. Video of Floyd's death caused widespread protests about the treatment of African Americans by police. Derek Chauvin was arrested and put on trial. Before they reached their verdict [a decision in a trial], the jury viewed evidence. They watched the video of George Floyd's death. They listened to testimony from witnesses. They listened to experts on the use of force by police. They saw medical evidence about George Floyd's cause of death. With the guilty verdict, the trial's judge, Peter Cahill, will decide on Chauvin's punishment. Based on the crime, Chauvin could go to prison for up to 40 years.
George Floyd's family was pleased that justice was served. People gathered outside the courthouse carried signs that said, "Justice for George." Leaders such as former President Barak Obama have argued that true justice will require people to continue to work for change. The conditions that caused George Floyd to be killed still exist. While the trial was going on, another African American man named Daunte Wright was shot by Minneapolis police during a traffic stop. Speaking about Wright after the Chauvin trial, George Floyd's brother, Philonise, said, "We have to always understand that we have to march. We will have to do this for life. We have to protest. Because it seems like this is a never-ending cycle." 
What Do You Think? How would you define justice? What does the Derek Chauvin verdict mean for justice? What can you do to work for justice?
Photo Credit: Henry Pan/ZUMA Wire/Alamy Stock Photo