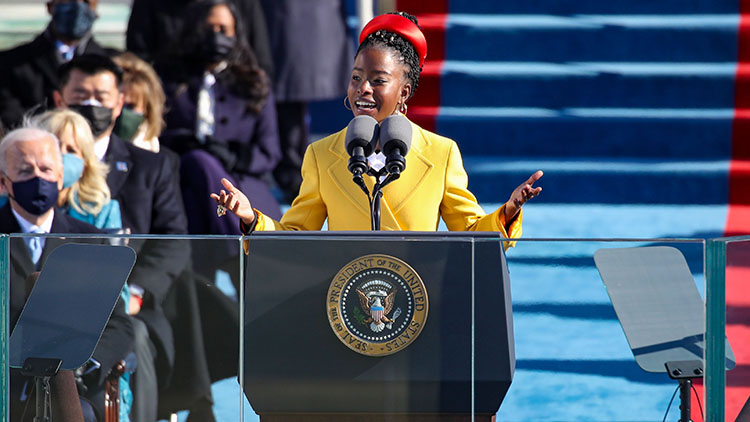 April is National Poetry Month, a month to enjoy and celebrate poetry. Four presidents in history—Kennedy, Clinton, Obama, and Biden—have had poetry recited at their inaugurations. Amanda Gorman became the youngest inaugural poet in U.S. history when she read her poem at Biden's inauguration. She was 22 years old.
When she was a young girl, Gorman started writing to cope with a speech problem. She had trouble saying certain sounds—but she could write them all! When she was 14, she joined a group called WriteGirl. WriteGirl helps teen girls discover the power of their voice through writing. When Gorman was 16, she was named the Youth Poet Laureate of Los Angeles. (A Poet Laureate is someone who is honored for their achievements in writing poetry.) A few years later, Gorman attended college at Harvard University. There, she became the first National Youth Poet Laureate.
First Lady Jill Biden had seen Amanda Gorman read a poem at the Library of Congress. It was her idea to invite Gorman to read at the Presidential ceremony. Gorman finished her writing the night that people stormed the United States Capitol Building. Her poem, called "The Hill We Climb," calls for unity in the United States. When she was doing research for her poem, Gorman read speeches by leaders such as Abraham Lincoln and Martin Luther King, Jr.
Gorman's poem ends with the inspirational words:
For there is always light.
If only we're brave enough to see it.
If only we're brave enough to be it.
What Do You Think? If you could meet Amanda Gorman, what would you like to ask her?
Photo Credit: Rob Carr/Getty Images