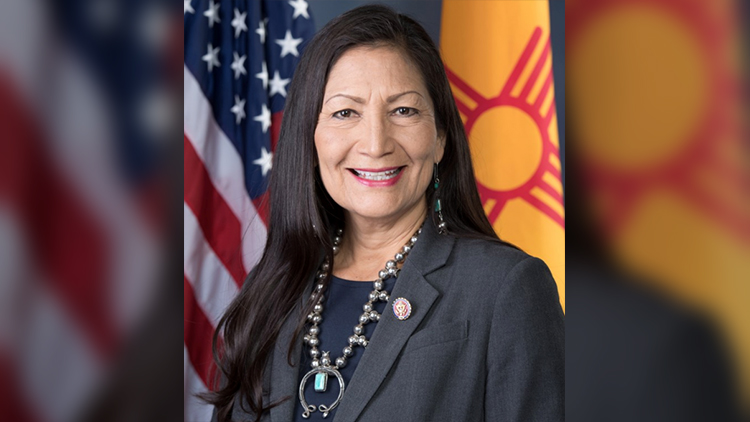 President-elect Joe Biden made history when he chose Kamala Harris to be his Vice President. She is the first woman and first person of color to be elected in that position. Joe Biden promised to nominate a diverse group of people to serve in his cabinet. The cabinet is a group of 15 people who are in charge of different departments in the government.
Biden nominated Deb Haaland to be Secretary of the Interior. The Secretary of Interior is in charge of managing federal land and natural resources.
Who is Congresswoman Deb Haaland? She was elected as one of the first Native American women to serve in Congress. She grew up in a military family. Her father was a Marine who won an award for saving peoples' lives in a war in Vietnam, and her mother is a Navy veteran. Growing up with parents in the military, Haaland moved a lot, attending 13 different schools.
When she had a daughter of her own, Haaland volunteered at her daughter's pre-school so that she could afford to pay for a good education. Haaland also struggled to pay for herself to go to college. With hard work and determination, she earned a degree from the University of New Mexico and the University of New Mexico School of Law.
Haaland is an enrolled member of her tribal group, the Pueblo of Laguna. For years, she ran her own small business. She advocated for the Laguna Development Corporation to commit to doing business in a way that was friendly to the environment.
In 2014, she became the first Native American women to be elected to lead a state political party. During Barack Obama's two presidential campaigns, she reached out to communities who are often forgetten during elections. She traveled to Standing Rock, the site of a protest to protect Native American land, to support the protestors and to protect natural resources. In 2018, she was elected as one of the first Native American women to serve in Congress.
What Do You Think? What has Deb Haaland done to help other people? Do you think she was a good choice for Secretary of the Interior?
Photo Credit: Image courtesy of the Office of Congresswoman Deb Haaland. Collection of the U.S. House of Representatives.