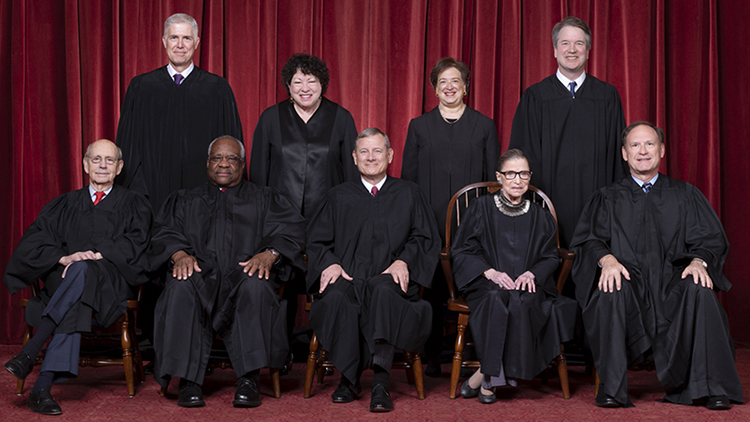 Have you been meeting with your class online? If so, you are not alone. Even the justices of the Supreme Court of the United States are hearing their cases remotely—over the phone. Usually, the justices hear cases at the Supreme Court building in Washington, D.C. However, social distancing has made this impossible. So, for the first time in the court's history, cases are being heard remotely, and you can listen live!
The Supreme Court hears about 70 to 80 arguments each year and makes decisions about laws. However, because of the pandemic [a worldwide outbreak of a disease], the Supreme Court justices will hear the next ten arguments from the safety of their homes.
Lawyers from each side of a case have two uninterrupted minutes to present their arguments over the phone. Then, the justices will take turns asking the lawyers questions. First, John Roberts, the Chief Justice of the Supreme Court, will ask questions. Then, the other justices will ask questions in order of seniority, that is, whoever has been on the court the longest.
This is different from the usual process where the justices may ask questions at any time. They often interrupt lawyers, and sometimes they interrupt each other. The process was changed because the frequent interruptions would not work as well in a remote meeting.
The Supreme Court has changed one more thing about the oral arguments. In the past, the Supreme Court has not broadcast its arguments outside of the court. The court is open to the public, but only 50 seats are available. People line up for hours to hear the arguments, and many people who want to hear them are turned away. Now that the court building is closed, the Supreme Court is allowing the media to play the audio for the public as the arguments are being heard. Now, anybody who wants to listen can listen!
What Do You Think? The pandemic has changed many ways things are usually done. Do you think the Supreme Court should continue to broadcast the arguments live after the COVID-19 crisis ends? Why or why not?
Photo Credit: Fred Schilling, Collection of the Supreme Court of the United States