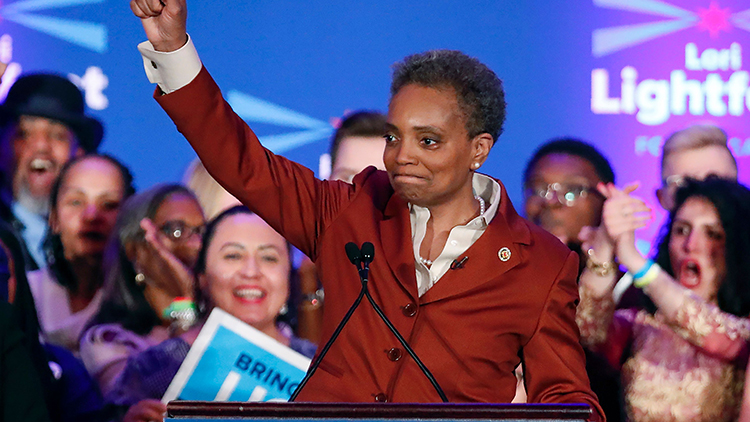 UPDATE: Lori Lightfoot has become the first African American woman to be mayor of Chicago. She is also the city's first openly gay mayor. She won with almost three out of every four votes.
On Tuesday, April 2, voters in Chicago will elect a new mayor. The mayor oversees many city departments, submits yearly budgets, and appoints key department leaders. Voters will choose between candidates Lori Lightfoot and Toni Preckwinkle in the election. Either person would become the first African American woman to run the city of Chicago. Lori Lightfoot would be Chicago's first openly gay mayor.
Lightfoot and Preckwinkle rose to the top of a large field of 14 candidates. Voter turnout during the first round of the election on February 26 was low. Only 33% of registered voters cast a ballot. One reason may have been that voters struggled to decide between so many candidates. But election officials expect more voters to participate in the final round on April 2.
Toni Preckwinkle currently serves as county board president. In this role, she runs many offices in the county, including the Department of Public Health and the Forest Preserves. As president, she has reduced the county's prison population. This has saved the county money. But some taxes she has passed have angered taxpayers.
Lori Lightfoot has never held elected office. However, the current mayor chose her to lead a task force to review police misconduct [bad behavior of an employee]. Her work in the task force has upset some police officers, but other Chicago residents have praised her efforts.
Chicago's next mayor must confront a number of challenges facing the city. Chicago residents are frustrated with years of corruption in government [dishonest or criminal behavior by those in power]. The city has also struggled to pay for pensions for city employees, such as teachers and police officers [payments owed to workers after they retire]. Other issues important to voters include the quality of schools, policing, gun violence, and affordable housing.
Whether voters choose Lightfoot or Preckwinkle, Chicago will make history on April 2 by electing its first African American woman mayor!
What Do You Think? Why do you think it's important for Chicago voters to cast a ballot in the city's next election for mayor?
Photo Credit: KAMIL KRZACZYNSKI/AFP/Getty Images