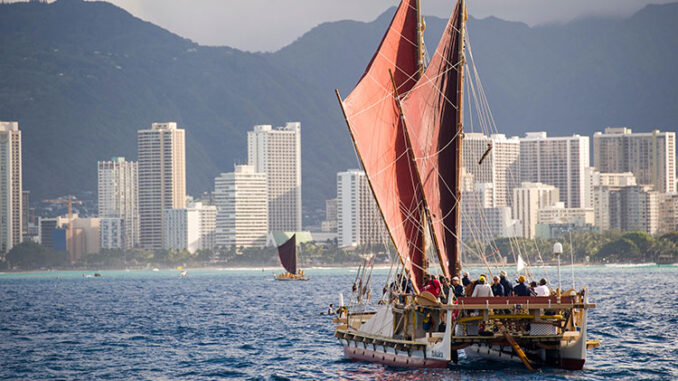 Imagine trying to sail across an ocean without a map or any navigational instruments to help guide your way. That's how members of the Polynesian Voyaging Society make their ocean voyages. The group, which is based in Honolulu, Hawaii, journeys on the open sea like the ancient Pacific Islander explorers once did. Members use an advanced system of navigation developed by their Pacific Islander ancestors. This system uses signs in the natural environment to guide people on their voyages. This ancient way of navigating is sometimes called wayfinding.
Ancient Pacific Islander navigators studied the stars, ocean swells, and flight patterns of birds to guide their large double-hulled canoes at sea. By observing these different signs, they could tell exactly where they were on the ocean in relation to their home and other Pacific islands. These signs also helped them discover islands that no people had ever visited before. Ancient Pacific Islanders were the first people to explore and settle the Hawaiian Islands. By traveling the seas the way their ancestors did long ago, the Polynesian Voyaging Society is preserving and honoring an important part of their history and culture.
In March 2023, the Polynesian Voyaging Society announced a new expedition. On this journey, they plan to circumnavigate, or sail around, the entire Pacific Ocean. They will begin this voyage in Juneau, Alaska, on June 15. They are calling this expedition "Moananuiākea: A Voyage for Earth." Moananuiākea is the Hawaiian name for the Pacific Ocean. During the four-year expedition, about 400 crew members will sail on the sea canoes Hōkūleʻa and Hikianalia. They will travel a distance of about 43,000 nautical miles, which is equal to almost 50,000 land miles. On their journey, they plan to visit 36 countries and groups of islands, including about 100 Indigenous territories.
One of the expedition's goals is to encourage young leaders and communities around the world to "navigate" the Earth toward a healthier future. The voyage will achieve this by highlighting the importance of the world's oceans and Indigenous wisdom about the natural world. The Polynesian Voyaging Society wants to inspire people to take better care of the Earth.
What Do You Think? Why do you think preserving ancient ways of navigation and ocean travel is important?
Photo Credit: U.S. Navy Photo by Mass Communications Specialist 3rd Class Justin Pacheco/AB Forces News Collection/Alamy Stock Photo