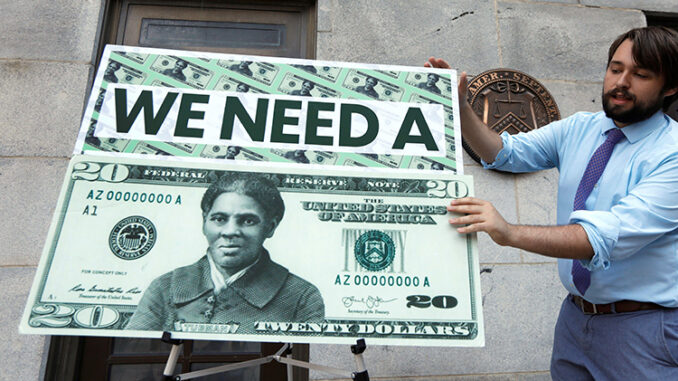 You've probably noticed that most US money today has images of White men on it. Usually, they are former presidents. Sometimes they are people who signed the United States Constitution. This tradition started in the 1860s. That's when George Washington first appeared on the one-dollar bill. In 1909, the US Department of Treasury began featuring the faces of presidents on all US coins.
Since that time, there have been some exceptions to this tradition. In 1886, for example, First Lady Martha Washington became the first and only woman to have her likeness appear on US paper currency. She was featured on a Silver Certificate dollar bill. In 1979, women's suffrage leader Susan B. Anthony became the first woman to appear on a US coin, the Susan B. Anthony Dollar.
In 2016, the demand for greater diversity on US currency grew. In that year, President Barack Obama announced that abolitionist Harriet Tubman would replace President Andrew Jackson on the twenty-dollar bill. The Department of Treasury is still developing this new bill and expects to issue it in 2030. In the meantime, the department's American Women Quarters Program is issuing quarters to honor the contributions of women in American history. These quarters still have George Washington on their front sides. But on their reverse sides are new designs celebrating women. The first one in the series honors the poet, author, and activist Maya Angelou. It was issued in January 2022. Angelou is the first Black woman to appear on American currency.
The American public has had different ideas about who should appear on US currency. Some people have shown interest in seeing civil rights leader Martin Luther King, Jr., appear on a paper bill. Others would like to see additional presidents featured on paper currency, such as John F. Kennedy and Ronald Reagan. There is also much interest in having more women featured on paper money. America's second first lady Abigail Adams and abolitionist Sojourner Truth are among those who have been suggested. There are only two rules about who can appear on US currency. The person needs to be someone who made a significant impact on US history. And the person cannot be someone who is still living.
What Do You Think?
Which US historical figures would you like to see appear on American currency?
Photo Credit: Yuri Gripas/REUTERS/Alamy Stock Photo