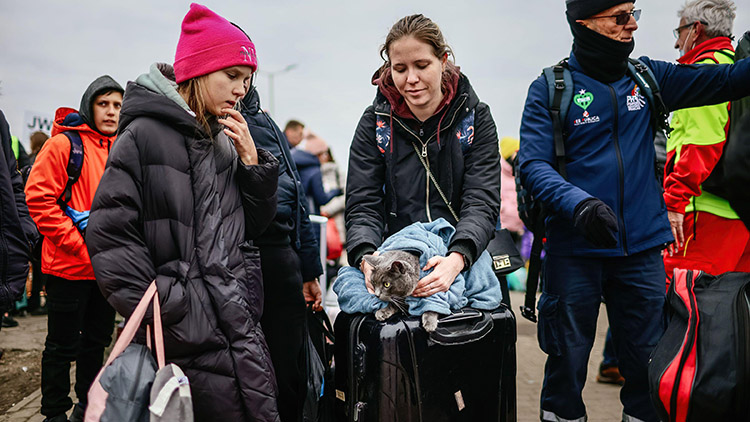 Trains leaving Ukraine are crowded beyond capacity. Roads are full of people who have walked for days. Lines at Ukraine's borders stretch for miles. Millions of people are desperate to leave the country. Many are Ukrainians. Some people from other countries who were working or going to school in Ukraine are also desperate to leave. They are all fleeing the war that began with Russia's invasion of Ukraine.
Other Ukrainians are choosing to stay in Ukraine. Russian military attacks have injured and killed many people. It has also caused shortages of food, power, shelter, and medical supplies. Both the people who left Ukraine and the people who stayed need help.
President Joe Biden signed a law to provide money for emergency food, shelter, and relief for refugees [people who have fled their country due to war]. Most refugees have fled to countries bordering Ukraine in Europe such as Poland and Romania. Many believe these countries could soon be overwhelmed. President Biden has been criticized because only a few hundred refugees have come to the United States. Now, the United States is trying to make it faster for refugees with family members in the United States to move here.
Many people outside the government are doing what they can to help Ukraine too. Charities around the world are donating food, water, and medical supplies to help Ukrainians. Many schools and local organizations are also supporting the people of Ukraine by holding fundraisers to donate to Ukrainian charities.
What You Can Do Talk to adults in your community. Find out what they are doing to help people in Ukraine. Ask how you can help.
Photo Credit: Filip Radwanski/SOPA Images/ZUMA Press, Inc./Alamy Stock Photo