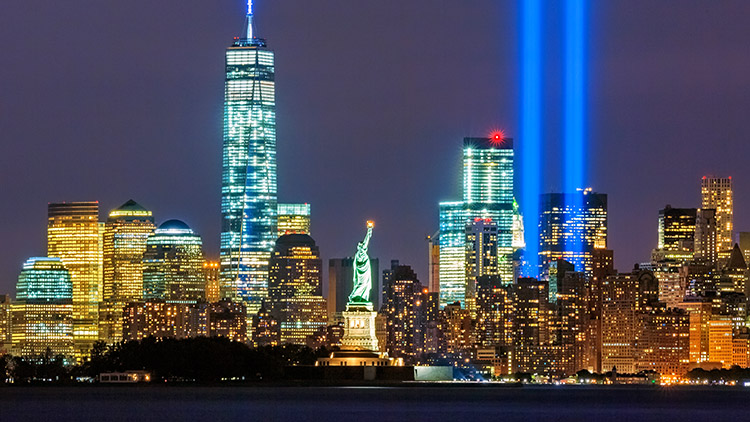 On September 11, 2001, the United States suffered the worst terrorist attack in history. Members of an terrorist group called al-Qaeda hijacked three airplanes. They crashed the planes into the Pentagon outside of Washington, D.C., and the World Trade Center in New York City. Both towers of the World Trade Center collapsed. Thousands of people died, and the damage was catastrophic.
Al-Qaeda trained its followers and planned the attack in Afghanistan. Afghanistan was ruled by the Taliban, a militant Islamist force. They provided sanctuary for al-Qaeda and its leader, Osama bin Laden. The Taliban refused American demands to turn over Osama bin Laden after the attack. The United States invaded Afghanistan and quickly overthrew the Taliban's government. Taliban leaders fled to neighboring Pakistan, where they continued to mount attacks on U.S. forces and the new Afghan government.
In February 2020, the U.S. said it would completely withdraw all troops from Afghanistan within fourteen months. However, the Taliban needed to honor its peace agreement with the Afghan government. The Taliban continued their attacks in violation of this agreement. So former President Trump set a new May 1 deadline to remove all U.S. troops from Afghanistan. After he won the election, President Biden set a new deadline for American troop withdrawal to September 11. This would be twenty years after the American war in Afghanistan began. By July 2021, President Biden shortened the deadline August 31, 2021.
In August, as American troops began their withdrawal, the Taliban mounted an offensive. They quickly seized control of much of Afghanistan. In just over a week, the Taliban regained control of the capital city, Kabul. Despite the Taliban's gains, President Biden remains committed to the August 31 withdrawal date. Many who fear the Taliban's rule are trying to flee the country. Remaining American military forces are working under challenging conditions to help evacuate Americans and Afghan refugees (a person who has been forced to leave their country) fleeing the Taliban. Terrorists have made attacks on the airport in Kabul as people evacuate. Hundreds have been killed, including 13 members of American armed forces. It is a frightening and dispiriting end to the United States' longest war.
The days after the attacks of September 11, 2001, were also a frightening time. The United States will memorialize the 20th anniversary of September 11. The nation will remember the people who were lost in the attacks and the conflict that followed. It will also remember the people who rushed to the World Trade Center to help as soon as the attacks began. Americans came together to help one another during those hard times. Americans will need to call upon that spirit again as they face this somber occasion.
What Do You Think? What are some ways you have helped others when they were most in need?
Photo Credit: Michael Orso/Moment/Getty Images