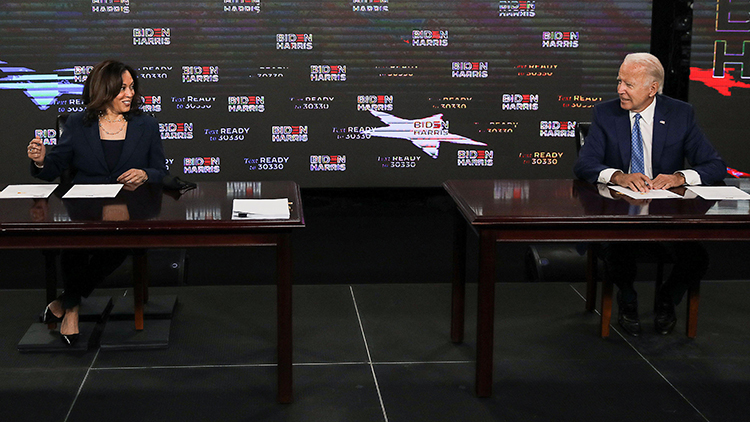 Joe Biden made an historic announcement this August when he chose his running mate for the 2020 election for U.S. President—Kamala Harris. What makes this announcement so important? If Mr. Biden is elected, Senator Harris will become the first woman and the first person of color to serve as vice-president.
Joe Biden was vice-president under President Barack Obama. Before he was chosen by the Democratic party to face Donald Trump in November's election, he and Harris both wanted to be nominated as the presidential candidate. At one of the debates, Harris and Biden exchanged sharp words with each other.
Once Biden was chosen, he vowed to choose a woman to be his running mate. He considered many women for the job before he chose Ms. Harris. He described her as a "fearless fighter for the little guy" and said it was a "great honor" to choose her.
Ms. Harris, 55, is a U.S. senator from California. She was the first black woman to serve as the state's attorney general, or top lawyer. She was elected senator in 2016.
Ms. Harris is not the first female candidate for vice-president. Geraldine Ferraro ran in 1984, and Sarah Palin ran in 2008. Both of these women were white, and neither of them were elected. Today, there is unrest as the United States continues to struggle with its history of racism. Biden's choice of running mate shows support for Black voters across the country.
Joe Biden said that Ms. Harris's story is "America's Story." Harris was born in California, but both of her parents were immigrants. Her father came from Jamaica, and her mother came from India. Biden and Harris became the official Democratic candidates at the Democratic National Convention.
What Do You Think? Do you think it's important for the United States to have a woman and person of color elected as Vice-President? Why do you think so?
Photo Credit: REUTERS/Carlos Barria/Alamy Stock Photo