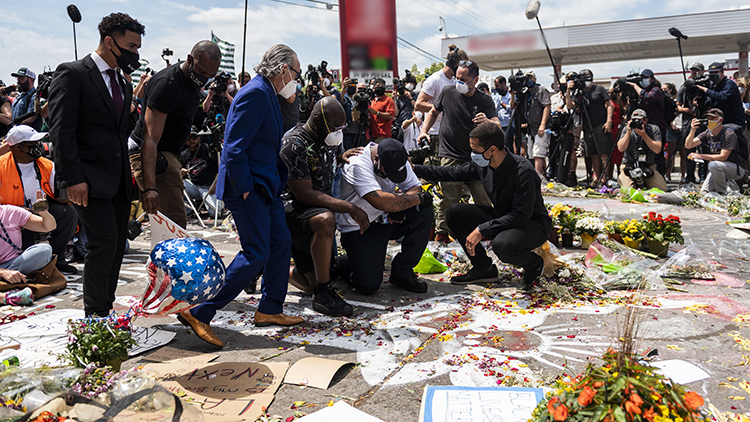 On May 25, an unarmed African American man named George Floyd was killed while he was being arrested in Minneapolis, Minnesota. A video shows a white police officer pressing his knee on George Floyd's neck. He told police, "I can't breathe."
George Floyd is not the first African American to be unjustly killed. In February, an African American man named Ahmaud Arbery was jogging when he was chased and shot by two white men who wrongly suspected he had committed a burglary. In March, an African American woman named Breonna Taylor was shot and killed in her home by police during a mistaken drug raid. Incidents like this have happened too many times. People are angry, scared, and in pain. They are protesting the disregard for African American lives that they see in the United States. People from many different racial and ethnic groups took part in the protests to push for the rights of African Americans.
After George Floyd's death, many peaceful demonstrators gathered in cities around the United States. Unfortunately, violence has erupted around some of the protests, often during the night. In Minneapolis, where George Floyd died, someone set a police building on fire. Windows of stores have been smashed and people have stolen things from the stores. Police have used tear gas and rubber bullets on demonstrators to try to control the crowds.
Some people are damaging property because they believe it is the only way people will pay attention to their anger at an unjust system. However, many community leaders and demonstrators are calling for peace and calm. George Floyd's brother, Terrence Floyd, told a crowd that his brother would want peace. "Let's do this another way," he said.
In addition to calm, people are calling for understanding and change. They want everyone to understand the anger, fear, and frustration in the African American community. They want a society where African Americans don't have to live in fear for their lives. They want to be heard and treated like everyone else. As Terrence Floyd told the gathering, "Let's stop thinking our voice don't matter and vote."
What Can You Do? What are some social issues facing your community? Talk with an adult about ways you can help increase understanding in your community. What do you hope to change?
Photo Credit: Stephen Maturen/Stringer/Getty Images