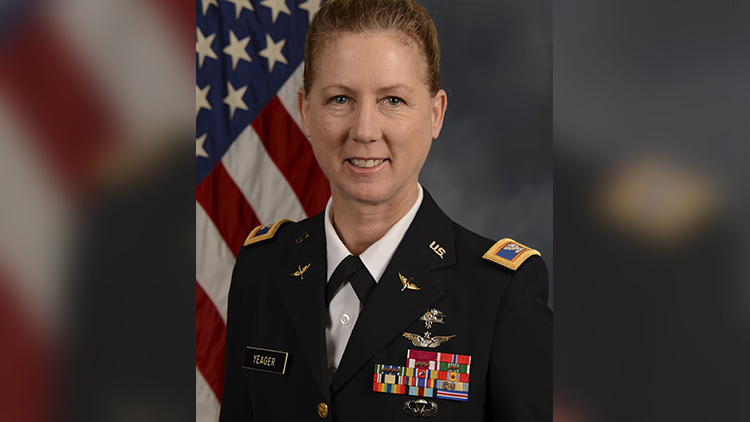 On June 29, 2019, Major General Laura Yeager became the first woman to lead a United States Army Infantry Division. In a ceremony at Joint Forces Training Base in Los Alamitos, California, General Yeager took over as commander of the 40th Infantry Division of the California National Guard. It's an important job. A military division is made up of about 10,000 service members who do many different jobs. The 40th Infantry Division began in 1917 during World War I. Over the years, the 40th Infantry Division has been involved in World Wars I and II, Korea, Afghanistan, and Iraq.
You could say that the army is a family matter for General Yeager. Her father is a retired major general. He flew helicopters during the Viet Nam War. She is also married to a retired lieutenant colonel, and one of her sons is a specialist in the Army Reserve. That's three generations of service to our country!
Major General Yeager grew up in Fountain View, California. She earned a degree in psychology from the University of California at Irvine. She also has two master's degrees. General Yeager began her military career in 1986. During her career, she has served as a platoon leader with the 423rd Medical Company. In 2010 and 2011, she flew Black Hawk helicopters in Iraq. She also commanded the California National Guard 40th Combat Aviation Brigade. For her service, Major General Yeager has been awarded the Legion of Merit, a Bronze Star and a Meritorious Service Medal.
Women still represent a small number of the members of the armed forces. In 2017, only 16 percent of active duty armed services members were women. But General Yeager and other women like her are opening doors for women in the armed services today. They are also paving the way for the next generation of women in the armed services.
What Do You Think? Think about Major General Yeager's accomplishments in the army. How do you think this will impact the role of women in the armed services in the future?
Photo Credit: Photo by Cpl. Danielle Rodrigues/DVIDS