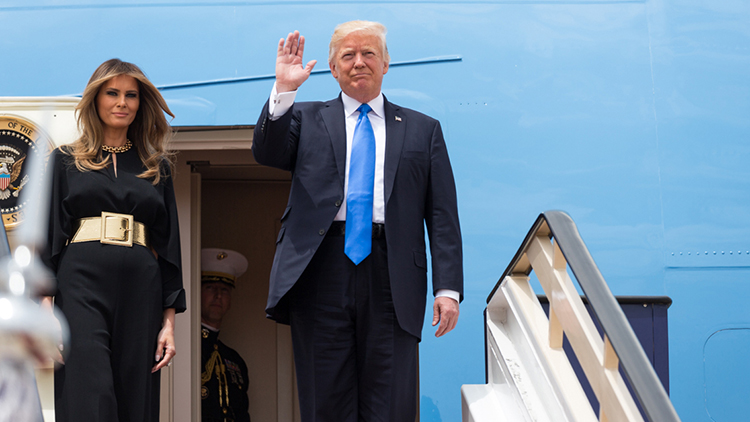 Think back to a time when you and a group of others worked together to complete a task. Each person brings different strengths and ideas to the project. How did you decide the best way to collaborate? It's not always easy! Leaders of countries must figure out how to collaborate, too.
This month, President Trump will take off for the longest diplomatic trip [trip to keep positive relationships between countries] of his presidency so far. On the list of places he's stopping? Japan, South Korea, China, Vietnam, and the Philippines. On his way, he'll make a visit to Hawaii.
According to the White House, Trump's main goal will be to meet with leaders of all the countries he's visiting. They will discuss how America's plans to stay safe and secure will help Asia stay safe and secure, too. This will build more trust between our countries.
After spending his first week in Japan, South Korea, and China, Trump will join two major summits [meetings between heads of government] that take place in Asia. On November 10, Trump will attend the Association of Southeast Asian Nations (ASEAN) summit in the Philippines. There, our president will show the United States' interest in working with the countries of ASEAN.
Then, on November 11-12th, the Asia-Pacific Economic Cooperation (APEC) summit will be held in Da Nang, Vietnam. APEC is a group of countries that lie on or near the Pacific Ocean. They meet each year to strengthen relationships with one another, and to make trade [exchange of goods] easier.
North Korea, another Southeastern Asian country, has been in the news lately for testing its weapons. This makes the United States and many Asian countries very worried. It could lead to a war. During President Trump's trip, leaders can collaborate to try to keep peace in the region.
What About You? What might countries do to build relationships between one another? Why might it be tricky for some countries to collaborate?
Photo Credit: Official White House Photo by Shealah Craighead