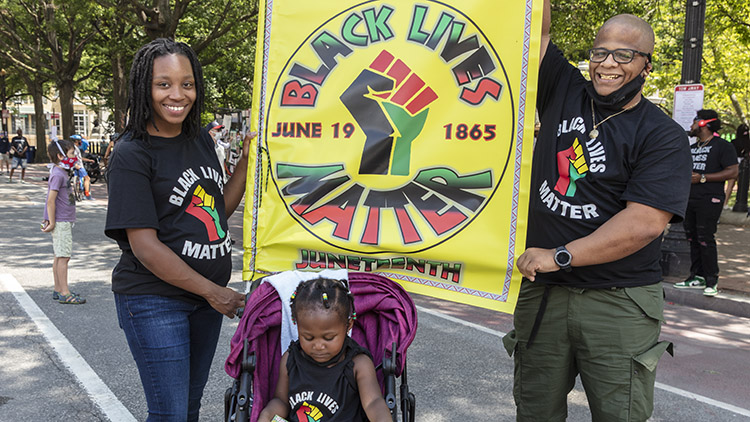 Juneteenth has become the newest United States federal holiday. It is now one of twelve federal holidays, which include Christmas Day, Memorial Day, and Independence Day. It is the first new federal holiday since Martin Luther King, Jr., Day became a federal holiday in 1983.
On Tuesday, June 15th, the United States Senate voted unanimously establish June 19th as a federal holiday. The next day, the bill passed in the House of Representatives. Two days later, on Thursday, June 17, 2021, President Joe Biden signed the bill to make Juneteenth a federal holiday.
Because June 19th falls on a Saturday this year, many federal workers, such as the post office workers, will have the day off on Friday, June 18th. Many states and private companies are also giving their employees time off to celebrate Juneteenth.
Read below to learn more about Juneteenth!
Today, we learn about important events while they are happening. Cameras and the internet allow us to see events unfolding right before our eyes. Hundreds of years ago, however, important news took longer to travel from place to place.
Abraham Lincoln signed the Emancipation Proclamation in 1863, which ended the practice of enslaving Black people in the southern states. But not everyone heard about the Proclamation at the same time. The news came to different parts of the country at different times.
Texas was the last state to find out about the Emancipation Proclamation. Union soldiers told people gathered in Galveston, Texas about the Emancipation Proclamation on June 19, 1865. Juneteenth got its name from the date; but people also call Juneteenth Freedom Day. The day marks the end of the practicing of enslaving Black people in the United States. The enslaved people were all free.
Today, people celebrate Juneteenth with events such as parades, marches, barbecues, ceremonies, church services, and the raising of a special Juneteenth flag. Many government facilities, such as museums, have special programs to teach people about this important commemoration.
Texas was the first state to officially celebrate the holiday, making Juneteenth a holiday in 1980. Only three states do not celebrate Juneteenth as a holiday, and many companies give employees a day off to celebrate Juneteenth. Many people believe that Juneteenth should be a federal holiday, celebrated by all of the people in the United States.
What Do You Think? Do you think that Juneteenth should be a federal holiday? Why or why not?
Photo Credit: Library of Congress, Prints & Photographs Division, photograph by Carol M. Highsmith [LC-DIG-highsm-63693]